Swiss Financial Market Supervisory Authority (FINMA) is the Swiss government body responsible for financial regulation. This includes the supervision of banks, insurance companies, stock exchanges and securities dealers as well as other financial intermediaries in Switzerland.
FINMA is an independent institution with its own legal personality based in Bern. It is institutionally, functionally and financially independent from the central federal administration and the Federal Department of Finance and reports directly to the Swiss parliament.
Responsibilities and functions
As a state regulatory body, FINMA is endowed with supreme authority over banks, insurance companies, stock exchanges, securities dealers and collective investment schemes. It is responsible for combating money laundering and, where necessary, conducts financial restructuring and bankruptcy proceedings. In addition, it has supervisory powers with respect to the disclosure of participations and is the complaints body for decisions of the Takeover Board in the area of public takeover bids for listed companies.
FINMA grants operating licences for companies and organisations subject to its supervision, monitors the supervised institutions with respect to their compliance with the requisite laws, ordinances, directives and regulations, as well as with the conditions for the granting of licences that must be complied with at all times. Where necessary and to the extent permissible by law, FINMA imposes sanctions, provides administrative assistance and regulates. In other words, it participates in the amendment of laws and corresponding ordinances, issues circulars and, where it is authorised to do so, its own ordinances. FINMA is also responsible for ensuring that self-regulation is acknowledged appropriately.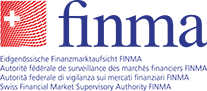 Company:

Swiss Financial Market Supervisory Authority FINMA
In business since 2007

Location Area:

Switzerland

Address:

Laupenstrasse 27 CH-3003 Bern

Phone:

+41 (0)31 327 91 00

Website:

visit website