THE NEW XM BONUS PROGRAM
50% UP TO $500 OR CURRENCY EQUIVALENT + 20% UP TO $5,000 MAXIMUM OR CURRENCY EQUIVALENT
Trading on an XM Real Account now gives you access to rewards and incentives greater than ever before. A two-tier bonus on your deposit is combined to give you a considerable $5,000 on top of your investment amount, giving you the ability to start trading with even more power and more confidence.
Instant credit on your deposit
Applied to deposits

from just $5

Available on all account types
No hidden terms
WHAT IS THE DEPOSIT BONUS
The deposit bonus is a two-tier bonus offering 50% up to $500 and 20% up to a maximum combined bonus amount of $5,000, or currency equivalent.
WHO CAN CLAIM THIS
This bonus is automatically available to all clients depositing funds to their account until the maximum bonus amount of $5,000 has been received.
DEPOSIT BONUS EXAMPLES
YOUR DEPOSIT – $5 | BONUS APPLIED – 50% on $5 | YOUR BONUS – $2.50
YOUR DEPOSIT – $1,000 | BONUS APPLIED – 50% on $1,000 | YOUR BONUS – $500
YOUR DEPOSIT – $2,000 | BONUS APPLIED – 50% on $1,000 + ‏20% on $1,000 | YOUR BONUS – $500 + $200 = $700
YOUR DEPOSIT – $5,000 | BONUS APPLIED – 50% on $1,000 + ‏20% on $4,000 | YOUR BONUS – $500 + $800 = $1,300
YOUR DEPOSIT – $10,000 | BONUS APPLIED – 50% on $1,000 + ‏20% on $9,000 | YOUR BONUS – $500 + $1,800 = $2,300
YOUR DEPOSIT – $20,000 | BONUS APPLIED – 50% on $1,000 + ‏20% on $19,000 | YOUR BONUS – $500 + $3,800 = $4,300
YOUR DEPOSIT – $23,500 | BONUS APPLIED – 50% on $1,000 + ‏20% on $22,500 | YOUR BONUS – $500 + $4,500 = $5,000

Company:

Trading Point Holdings Ltd
In business since 2009

Location Area:

Worldwide

Address:

2 Richard & Verengaria Street Araouzos Castle Court, 3rd Floor 3042 Limassol, Cyprus

Phone:

+357 25029900

Website:

visit website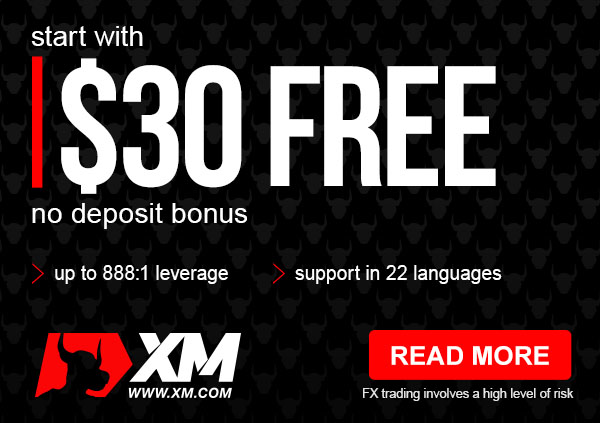 $30 NO DEPOSIT BONUS
XM offers its clients multiple additional incentives to start trading and keep on trading, starting with a $30 no deposit bonus. In other words, we give you $30 worth of credit just for opening your first Real Account, allowing you to test our products and services by starting to trade with no investment and no risk.
- No deposit required
- Automatically credited to your account
- All profits earned can be withdrawn
- Available to all new clients
- No hidden terms